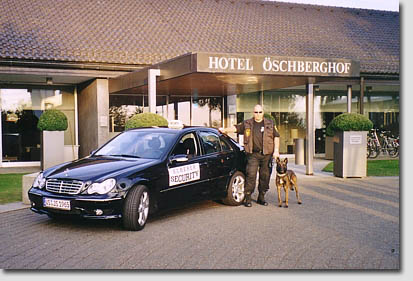 Personal protection and chaperon services
Vacation chaperonage
Security-chaperon service
Chaperoning of minors to events
Trade show and convention protection
Security services
Special assignments, etc.

Scherer Security has put together a specially trained team of BODYGUARDS.

Our Team consists a of young, physically and mentally capable group that can work well under pressure. They were selected with our specific required standards and continuously participate in our inter-company education. A professional choice of our employees is guaranteed due to the many years of training from Juergen Scherer, retired police officer. All of our employees are schooled with the § 34a Gew. requirements of the IHK. In addition to proper schooling in legal rights and extensive psychological training, our employees are instructed in methods of avoiding excessive violence. SCHERER SECURITY places a high value on a superior image and professional work and therefore, does not associate with so-called "inexpensive recruits," being that good personnel also has a good price.
SCHERER SECURITY is not a "low-budget business," but rather a motivated and well-trained group that is experienced in top-quality security duties and responsibilities. SCHERER SECURITY reserves the right to refuse any business that is not in accordance with our standards.
The straightforwardness of our groups is reflected in our practice, which is vital for personal supervision and safety of the client. For some large businesses, mainly due to organizational reasons, this concept remains "out-of reach." As explained in our company philosophy, our Team members all possess a very conservative demeanor, a sound private life and a flawless personal background.
We value our sincere image, friendly and self-assured manner and complete and continuous educational background.
At SCHERER SECURITY, our attire is not t-shirts or jeans but rather professional uniforms which unfortunately is not the case with many other companies in this field. Our very strict company policy guarantees that these rules are followed.
In addition, our employees will have no visible earrings, piercings or tattoos while on duty.
Needless to say, no alcohol or tobacco is permitted while our employees are on duty.
The employees of SCHERER SECURITY are trained in body building and /or in martial arts and are in continuous training.
Our employees can perform their job in uniform or plain clothes. It is understood that our Team is outfitted with comprehensible, suitable state-of-the-art equipment.

Proprietor:
Jürgen Scherer, Polizeibeamter a.D.
Schwarzwaldstraße 1
D-78136 Schonach - Germany
Tel.: + 49 (0) 7722-91 68 25
Fax: + 49 (0) 7722-91 68 26
Mobil: + 49 (0) 172-627 57 24
E-Mail: info@scherer-security.de